Coventry among 105 cities globally to score an "A" for leading climate action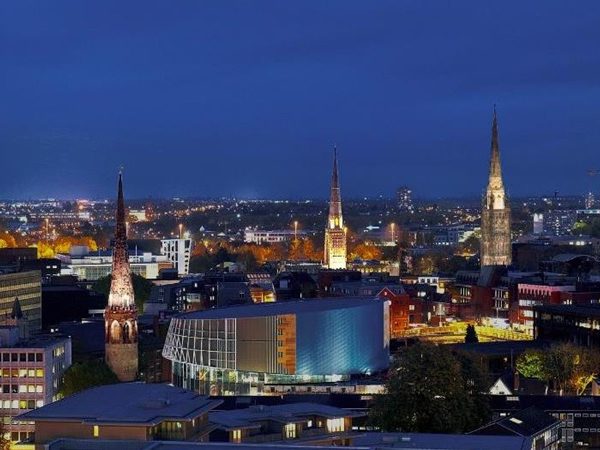 Coventry scores top grade on climate action according to environmental impact non-profit organisation CDP.
CDP names 105 cities as leaders on climate action and transparency, more than double the number in 2019.
Cities on the A List are taking on over three times as many climate actions as others
Coventry has been recognized as a global leader on climate action and transparency, achieving a place on CDP's Cities A List.
Last year, 43 cities were recognised for their climate leadership and transparency, compared to 105 this year, 65% of which are new arrivals.
CDP is once again publishing its Cities A List to demonstrate how cities are stepping up to the helm, leading on ambitious and urgent climate action. In 2019, CDP scored cities A (Leadership), B (Management), C, (Awareness) and D (Disclosure) based on completeness and quality of their data, and the level of action taken.
To score an A, a city must have a city-wide emissions inventory, have set an emissions reduction target, published a climate action plan and have completed a climate adaptation plan to demonstrate how it will tackle climate hazards now and in the future among other actions.
Analysis has shown that on average cities on the A List are taking over three times as many climate actions as non-A List cities. This represents five times as many actions to cut emissions and curb future warming, and twice as many to adapt to current climate hazards, from flooding to extreme heatwaves.
Kyra Appleby, Global Director for Cities, States and Regions at CDP, said:
"In the year of COP 26, the world's attention is turned to state governments to ratchet up their carbon reduction commitments. Cities, however, are uniquely placed to deliver urgent action. These 105, including Coventry demonstrate how they are setting an example for others to follow, and we congratulate them for their leadership."

Coventry has been recognized for its actions in the last reporting year to develop robust climate change strategies, track and act to limit and reduce emissions, assess and mitigate climate risks and transparently report this information in its 2019 disclosure to CDP."
Cllr Jim O'Boyle, Cabinet Member, for Jobs and Regeneration at Coventry City Council, said:
"This is really encouraging news for the city especially as the Council and other organisations are absolutely committed to addressing all aspects of climate change.
We know how important it is to be clear on the challenges we face and the steps we need to take to reduce carbon emissions in the city.
Key initiatives include the green business programme which is part funded by the European Regional Development Fund (ERDF), where we are helping businesses to reduce their impact on the environment through funding for energy efficiency and renewable energy powered solutions.  Other major projects include our electric vehicle charging infrastructure, putting us second with the most amount of EV chargers of all UK cities outside of London and the launch of the UK Battery Industrialisation Centre (UKBIC) later this year.
"Our approach is addressing climate change in a way that has the backing of the community and business, although we know we have lots more to do. It is also important that we learn from the work of other cities too."
A number of projects are underway or in development which are focusing on the city's environmental activities.  For a number of years, the City has had a district heating system, which is heating key city centre buildings from its waste to energy plant; energy efficient street lighting resulting in a 38% energy reduction and the first embedded cross disciplinary energy research hub is located at one of our Universities to identify the City's power supply needs and secure funding for critical power supply improvements.
In addition, we are meeting the challenge of future mobility using battery technology to create a new very light rail (VLR) system in Coventry (the first one in the UK) alongside CW LEP, Warwick Manufacturing Group and West Midlands Combined Authority.  We will also have ten fully electric buses operating by April 2020 on major routes that have been identified as air quality hotspots.
ENDS –
Note to editors
About CDP
CDP is a global non-profit that drives companies, cities and governments to reduce their greenhouse gas emissions, safeguard water resources and protect forests. Voted number one climate research provider by investors and working with institutional investors with assets of US$96 trillion, we leverage investor and buyer power to motivate companies to disclose and manage their environmental impacts. Over 8,400 companies with over 50% of global market capitalization disclosed environmental data through CDP in 2019. This is in addition to the over 920 cities, states and regions who disclosed, making CDP's platform one of the richest sources of information globally on how companies and governments are driving environmental change. CDP, formerly Carbon Disclosure Project, is a founding member of the We Mean Business Coalition. Visit https://cdp.net/en/cities or follow us @CDP to find out more.
A List Cities
Cities with * were also named in 2018 Cities A List.
Africa
South Africa
Cape Town*
eThekwini
Asia
China
Government of Hong Kong Special Administrative Region *
Indonesia
Balikpapan City Government
Japan
City of Yokohama
Republic of Korea
Seoul Metropolitan Government
Malaysia
Iskandar Regional Development Authority
Petaling Jaya City Council
Seberang Perai Municipal Council
Taiwan, Greater China
Kaohsiung City Government *
New Taipei City Government
Taichung City Government *
Tainan City Government
Taipei City Government *
Taoyuan City Government
Europe
Bulgaria
Sofia Municipality
Denmark
Gladsaxe Kommune *
Helsingor Kommune
Hoeje – Taastrup Kommune
Horsholm Kommune *
Finland
City of Lahti
City of Turku
France
City of Paris *
Germany
City of Berlin
Stadt Heidelberg
Greece
City of Athens *
Iceland
City of Reykjavik *
Italy
Commune di Torino
Latvia
Riga City
Netherlands
The Hague *
Norway
Baerum Kommune *
City of Oslo
Portugal
City of Lisbon
Municipio de Guimaraes
Municiio de Sintra
Spain
Ajuntament de Barcelona *
Ayuntamiento de Vitoria-Gasteiz
Sweden
City of Stockholm
City Orebro
Malmo Stad
Municipality of Uppsala
Sigtuna Municipality
Vastervik
Switzerland
City of Basel-Stadt
United Kingdom of Great Britain and Northern Ireland
BCP Council
City of Leicester
Coventry City Council
Greater London Authority *
Greater Manchester
Latin America
Argentina
City of Buenos Aires *
Brazil
Municipality of Belo Horizonte
Prefeitura do Rio de Janeiro
Colombia
Alcaida de Monteria
Mexico
Ayuntamiento de Celaya
Ayuntamiento de Hermosillo
Gobierno Municiapl de Leon de los Aldamas
Mexico City
Municipio de Merida
North America
Canada
City of Calgary *
City of Edmonton
City of North Vancouver*
City of Toronto *
City of Vancouver
City of Victoria
City of Windsor
United States of America
Boulder County
City of Ann Arbor
City of Baltimore
City of Bloomington
City of Boston *
City of Boulder
City of Cincinnati
City of Cleveland *
City of Columbus
City of Denver *
City of Emeryville, CA *
City of Eugene
City of Evanston, IL
City of Fayetteville, AR
City of Flagstaff
City of Fremont *
City of Indianapolis *
City of Lakewood *
City of Los Angeles
City of Manhattan Beach, CA
City of Oakland *
City of Palo Alto *
City of Park City, UT
City of Philadelphia
City of Piedmont, CA *
City of Portland, OR
City of San Francisco *
City of Santa Cruz, CA
City of Santa Monica
City of Seattle *
City of Somerville, MA
City of West Palm Beach *
District of Colombia*
New York City *
Oceania
Australia
Canberra *
City of Adelaide *
City of Melbourne *
City of Sydney *
New Zealand
Auckland Council
Wellington City Council