Global Entrepreneurship Week 2021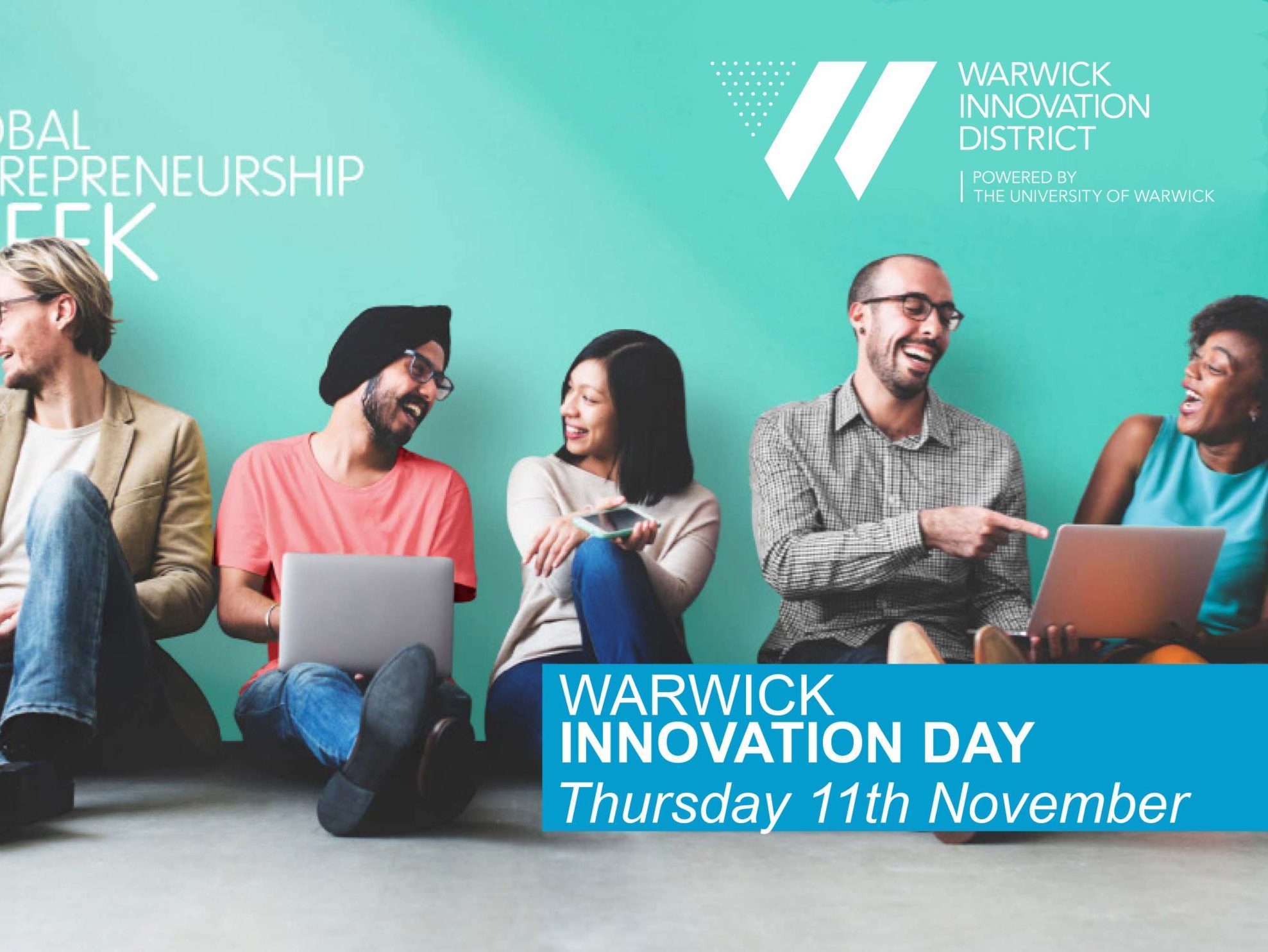 As part of Global Entrepreneurship Week, the University of Warwick is showcasing the Warwick Innovation District and It's new space in Junction. Join us on Thursday 11th November 2021, in person, or online by registering for a day of inspiration, networking, innovation and catching up!
There is lots to show you – our space is newly refurbished and ready for innovating! There will be stands showcasing the business support we offer and our business collaborators, including the new NatWest Accelerator. Some of our successful entrepreneurs will be exhibiting too, showing the diversity of the products and services we support. We also have a new Esports space and kit, Incubator and Accelerator programmes, and you can meet the team too!
There is lots to tell you too – with a series of informal sessions talking about raising finance and investment, business support and being part of our network. Some of our partners will join us, and there will be members of the team on hand to answer innovation questions and queries.
Whether you're a student with ambition, alumni, staff member, academic, local business, or entrepreneur – Come and see what's new at the University of Warwick.
We will be celebrating our new spaces and programmes with coffee, cake and festivities for those joining us in person, so book early! Booking is essential so click here to see our calendar of events: https://warwickinnovationdistrict.com/global-entrepreneurship-week/
We are really keen to hear from alumni that might want to help coach, mentor, sponsor or support our entrepreneurs and innovators too. Please do come along or contact us through the webpages if you would like to join our network.
Wendy Coy, Director of Operations, Innovation Group, said: "Whether you are interested in creating new things, products, services; helping societal, health or life challenges; building a business, growing a business, supporting a business, exploring innovation as a career choice, or wanting innovative solutions and people in your organisation have a look at some of the exciting things we want to share with you during Innovation Week."
David Plumb, the University of Warwick's Chief Innovation Officer, said: "During the day we will be joined by speakers from collaborating organisations to explain how they contribute to the Warwick Innovation District, and you will hear from successful entrepreneurs about their experiences. Learn about investment, product development and commercialisation, and you will have an opportunity to sign up for further programmes with us to develop your ideas through our incubator and accelerators. You can access skills, knowledge and networks by joining us, or support us with mentoring and collaborations."
---
A calendar of events and activity can be located below:
https://warwickinnovationdistrict.com/global-entrepreneurship-week/
And follow us for the latest posts here: LinkedIn | Twitter | Facebook | YouTube | Instagram

---
Media Contacts
For Warwick Innovation District:
Wendy Coy, Director of Operations, Innovation Group. University of Warwick
W.E.Coy@warwick.ac.uk
For Press Support:
Jason Hier, Digital Strategy & Operations Officer, Innovation Group. University of Warwick
Jason.Hier@warwick.ac.uk
---
Notes for editors
The University of Warwick is ranked 6th in the UK and 61st in the world. 5 years after graduating, Warwick graduates ranked within the UK top 10 for highest earnings in over 11 subjects. For more about the University of Warwick visit: https://warwick.ac.uk/
For more about Warwick Innovation District visit: www.warwickinnovationdistrict.com
For more about Warwick Enterprise visit: https://warwick.ac.uk/fac/cross_fac/enterprise/
For more about Warwick Innovations visit: https://warwick.ac.uk/services/innovations
For more about University of Warwick Science Park: https://www.warwicksciencepark.co.uk/