Safety-focused e-scooter backed by former Aston Martin CEO could revolutionise personal mobility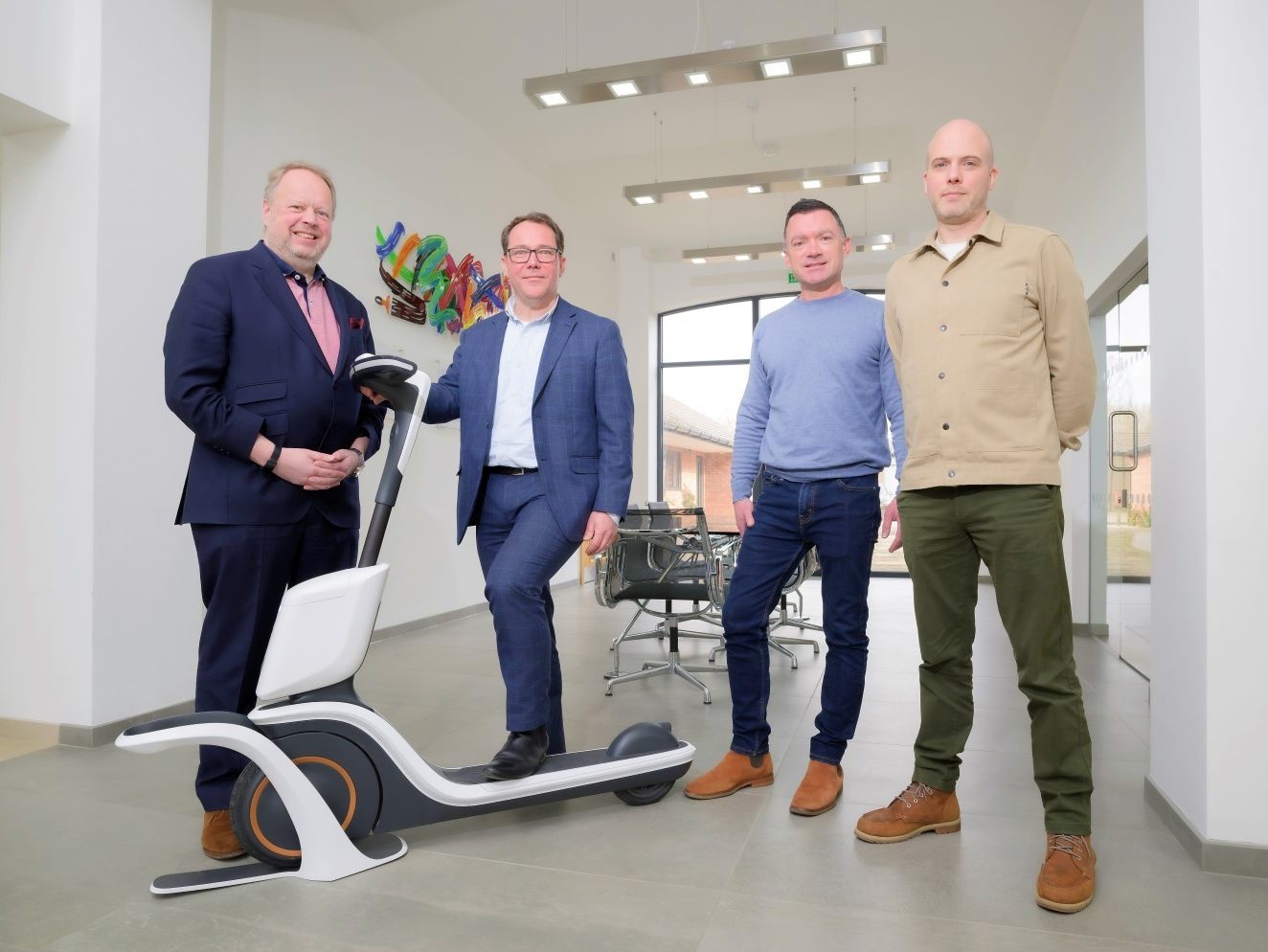 A new electric scooter which prioritises the safety of both riders and fellow road users using AI – and is backed by a former CEO of Aston Martin – could be set to revolutionise personal mobility.
---
Hilo EV, founded by Leamington-based Robin Harris and James Browne in 2019, uses AI to scan its surroundings for hazards such as pedestrians and vehicles, and actively applies a number of functions to warn of the danger.
The scooter also features a larger front wheel to cope with bumps and potholes, and has a powerful 'halo' light to illuminate the rider in dark conditions to increase visibility.
Hilo is currently aiming the scooter at the private market, but hope to persuade authorities in the UK and abroad that it can be part of a locality's transport system.
And after accessing grants with help from support programme Business Ready, Hilo is set to pitch its scooter to delegates and investors at a major mobility conference – Micromobility Europe 2023 – in Amsterdam in June.
Business Ready delivers support to expanding companies managed by the business support team at the University of Warwick Science Park, and is funded by the European Regional Development Fund and Warwickshire County Council as part of the CW Business: Start, Grow & Scale Programme.
Dr Andy Palmer, the former CEO of Aston Martin and a pioneer of electric vehicles, invested significant funds into the business after being impressed with Robin and James' professionalism.
Robin Harris, co-founder of Hilo EV, said: "I was inspired to create Hilo after a visit to Chongqing in China – a 'megacity' of around 32 million people. It was the first place I rode an e-scooter and realised just how useful they could be.
"I sat down with James and we came up with an idea to resell e-scooters in the UK, but the numbers didn't really work. That's when we thought we could create our own.
"We wanted to design our scooter around safety above all else, which we felt was the main barrier to mass-adoption in the UK and Europe."
Their ideas impressed Dr Andy Palmer, who invested his own money into Hilo and collaborated with James and Robin, as well as Chief Technical Officer Ashley May and Chief Creative Officer David Evans, to create the prototype with the AI, halo and front wheel system.
Dr Palmer said: "Rightly or wrongly, the public perception of e-scooters is that they are a menace and can cause injuries to riders and fellow pedestrians.
"Hilo's commitment to safety really impressed me and I thought Robin and James had the right ideas to make this a reality."
After he invested in the company, Robin and James were able to meet with Dirk Schaefer, SME Engagement Lead at the University of Warwick Science Park, around how Business Ready could support with grant funding as well as help with their product development and investor pitch.
Dirk added: "We thought Hilo was a highly innovative concept which rightly promotes safety, and felt they had great potential.
"Many start-ups such as Hilo have fantastic ideas, but don't know the best ways to secure the funding they need – innovation is expensive after all. Our knowledge of available grants and how to impress investors really helped Hilo in its early stages.
"Additionally, their concept required input from our new product development specialist to help them crystallise what their product should look like while considering what the market actually wants. This led to them receiving additional input from WMG's High Value Manufacturing Catapult.
"We're now in touch with them to pair them with a growth specialist from Business Ready to help them in their final development stages. We're really excited to see how far they go."
Now, Hilo is ready to showcase its concept and prototype at Micromobility Europe, and is hopeful of impressing.
Robin added: "We're in a great place right now and I'm very proud of how far we've come. I'm confident we can attract the extra investment with Business Ready's ongoing support.
"We can't wait for the conference in Amsterdam and we think it could be the next key step in the evolution of Hilo."
Find out what other support is available to your business by calling Coventry and Warwickshire Growth Hub on 0300 060 3747 or visit the Coventry and Warwickshire Growth Hub website.
Notes to editors
The project is receiving up to £3.6 million of funding from the England European Regional Development Fund as part of the European Structural and Investment Funds Growth Programme 2014-2020. The Department for Levelling Up, Housing and Communities (and in London the intermediate body Greater London Authority) is the Managing Authority for European Regional Development Fund. Established by the European Union, the European Regional Development Fund helps local areas stimulate their economic development by investing in projects which will support innovation, businesses, create jobs and local community regenerations.  For more information visit https://www.gov.uk/european-growth-funding.
For more information on the Business Ready programme and how to apply, please contact us at:
Phone: 024 7632 3121
Email: businessready@uwsp.co.uk
Website: www.business-ready.co.uk