Embed UK – from Science Park start-up to Queen's Award winner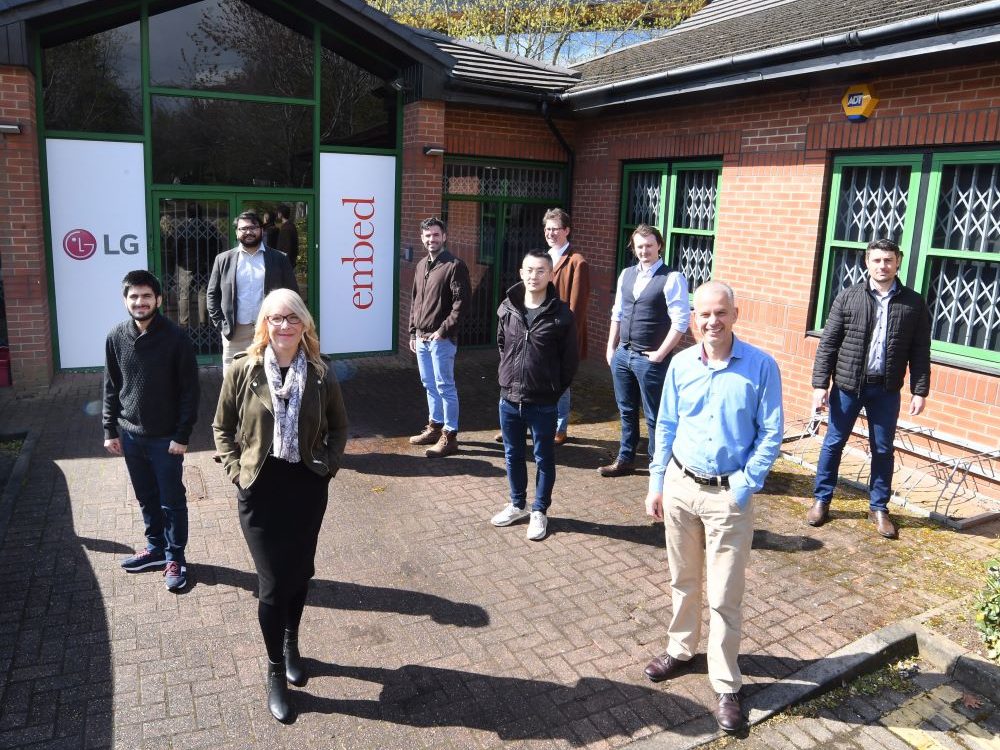 Embed UK designs original electronic components and software for a variety of automotive manufacturers – including the likes of Jaguar, Bentley, and McLaren – and has been based at the University of Warwick Science Park since its foundation in 2005.
It designs unique products known as 'embedded systems' to control a wide range of vehicle functions depending on its clients' needs – from improving the interface of a console in a family car, right through to the development of 'self-driving' autonomous vehicles.
Embed either works directly with automotive manufacturers, or with firms that supply those manufacturers, and currently employs 35 people at its site in Viscount Centre on the Science Park.
Its current projects include designing the electronics and software to control a spoiler airbrake system on the Gordon Murray T50 – a cutting-edge supercar – as well as working to improve the software in several manufacturers' electric and autonomous vehicles.
UWSP has helped Embed from its early days as a start-up to it winning a prestigious Queen's Award for Enterprise in April 2021.
Background
The company that later became Embed started life in 2005, after the collapse of Midlands car manufacturers MG Rover.
It formed on the back of help from the UWSP's 'Fast Start' initiative which was created specifically to help people affected by the MG Rover fallout start their own business.
Current co-owner of Embed Ivan Wilson had worked for MG Rover in the late 1990s, and had been running a small company of his own when a few other like-minded engineers who had been made redundant from MG Rover and had attended the Fast Start initiative approached him.
After some of the original founders left, Ivan has run Embed with business partner Derek Hoyle since 2009, and the firm has gone from strength to strength at the Science Park.
Embed first based itself at the Venture Centre – UWSP's building designed for science or tech-based businesses with potential for growth, which need flexible leases.
Ivan said: "To begin with, our operation was very small – our office wasn't very big, but it worked for us in our early days.
"The Science Park had a lot of positives that made it quite attractive. We were right next to a lot of important automotive companies which was fantastic for us because we could bounce ideas off of them.
"And the main building included a shower unit, which meant our staff could cycle to and from work if they wanted to. That might not seem like a big deal to some people but it was a nice bonus that our employees really appreciated."
Expansion
As Embed began to attract more clients and grow – thanks in part to UWSP's Ignite programme for growing businesses – it quickly needed new premises to accommodate its staff and equipment.
Instead of Embed having to look further afield for a bigger office, the Science Park was able to offer the company a larger base at Sovereign Court in quick time.
As the years went on, further success followed, and Embed needed to upgrade its offices again and could quickly move into The Viscount Centre.
Ivan said: "We moved from office to office as we grew, but stayed within the Science Park each time we moved. We were offered suitable premises quickly and it was extremely convenient.
"The Science Park was very accommodating with our needs too. For example, our employees really valued the shower block in the Venture Centre, and were reluctant to give it up. So, the Science Park installed a new one in the Viscount Centre, which made our staff very happy.
"What's great is that the Science Park really wants its tenants to succeed in business, and once they do, it has provisions in place to quickly find bigger and better offices for them.
"We didn't have to waste time and money looking elsewhere – the Science Park covered our needs completely."
Benefits
Not only has UWSP allowed Embed to grow in terms of space, it also provided several other benefits too.
It is currently home to a wide range of businesses working in the automotive sector, including Jaguar Land Rover and TATA.
"Jaguar Land Rover has been one of our clients for a while now, and we have a great working relationship thanks to being so close to them and being able to discuss projects easily," Ivan added
"Many other firms at the Science Park have connections to engineering and technology in some way, so it's nice to be surrounded by like-minded individuals and businesses."
Embed has also benefitted from workshops that the Science Park has held to improve skills in other facets of their business.
Ivan said: "We're obviously engineers, so while we're very good at designing embedded systems for our clients, our knowledge of marketing is not as strong.
"The Science Park's workshops around marketing helped us improve in areas such as our presentation skills and improve how we promote ourselves to clients, which has supported our growth."
Electric dreams
Ivan feels Embed is in the right place and is approaching the future with confidence.
He said: "Business is going well despite the challenges the economy has faced over the last year or so.
"We're delighted with how the Gordon Murray T50 is progressing, and we're hoping to test out some of the advanced work we've been doing with electric vehicle motor supplier ePropelled at the Millbrook proving ground in September.
"Electric vehicles and autonomous vehicle technology are both moving forward at a rapid pace, and it's fantastic to be a part of it.
"We're in a great position to help shape the future of vehicles in this country, and we have to thank the Science Park for helping us get there."
Embed's success was recognised in April 2021 when it received a Queen's Award for Enterprise in International Trade – given to companies which have achieved the 'highest level of excellence' in their given fields.