Coventry Based Sarissa Biomedical Secure £1.2million Investment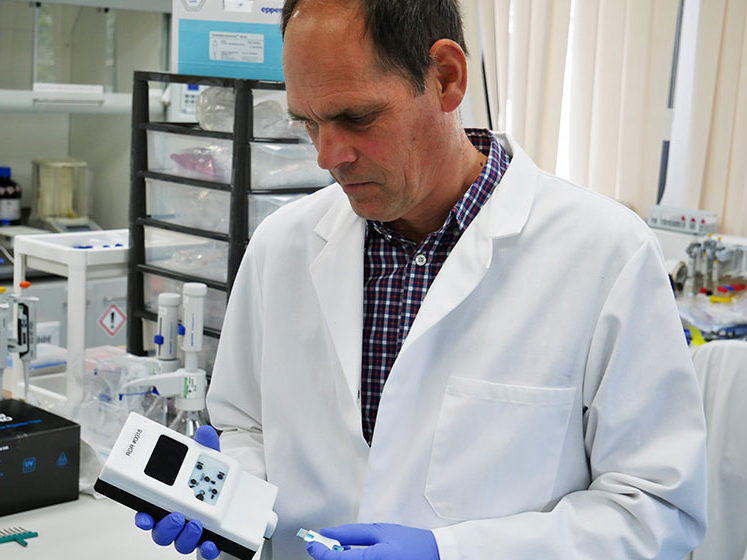 University of Warwick spin-out Sarissa Biomedical had a striking success recently when investors backed them with a £1.2million investment.
The money will enable the Coventry biotech business to develop a new hand-held device that allows paramedics and emergency doctors to quickly diagnose patients who are having a stroke.
Sarissa secured the funds from a consortium of investors including the MEIF Proof of Concept & Early Stage Fund, which is managed by Mercia and part of the Midlands Engine Investment Fund, Mercia's EIS funds, and private investors including Wren Capital and the Wood Family.
Sarissa's new system will be the first of its type for stroke patients and could help improve the prognosis for victims by allowing doctors to diagnose and treat them more quickly. The SMARTChip device can be used on location or at the patient's bedside and gives results in around five minutes. It contains a disposable biosensor chip which analyses a fingerprick sample of blood and measures the level of purines – chemicals released into the bloodstream within minutes of a stroke.
The funds will allow Sarissa to carry out a clinical study with the NHS and Newcastle University Stroke Research Group, and invest in product manufacture. Established in 2002 as a spin-out from Warwick University, Sarissa produces biosensors for the medical and academic research market.
Stroke is the fourth most common cause of death in the UK and a major cause of adult disability, with stroke care accounting for around five per cent of the entire NHS budget. While effective treatments are available, they need to be used promptly after an attack but currently there is no fast and reliable way to tell if a patient has had a stroke. Patients are assessed on their symptoms and then sent for a CT or MRI scan to confirm the diagnosis. The SMARTChip system also has potential for use in diagnosing other conditions such as heart attacks, peripheral artery disease and foetal hypoxia or 'blue baby syndrome'.
Dr John Clarkson, CEO of Sarissa, said: 'This investment is a strong signal of support from Mercia and our other investors and will enable us to begin the clinical evaluation process. We are pleased to say that, despite the current lockdown, we are able to press on with the clinical trials as planned with the aim of bringing this important new test to market as soon as possible."
Dr Jo Slota-Newson of Mercia said: "This new tool from Sarissa represents a major step forward in reducing the huge toll of disability caused by stroke and relieving the burden on the NHS. Ultimately it could help millions more people by providing a fast and reliable way to diagnose other conditions such as heart attack, enabling patients to benefit from more prompt and effective treatment."
Ken Cooper, Managing Director at the British Business Bank, said: "The MEIF is still very much open for investment and is committed to driving Midlands' innovation. This funding into Sarissa is a good example of that. The MEIF investment should allow the company to enter a new growth phase as it progresses clinical studies and invests in its manufacturing capabilities."
Sean Farnell, board director at the Coventry and Warwickshire Local Enterprise Partnership, said: "Coventry and Warwickshire has an excellent reputation for innovation and Sarissa is a perfect example of this. The next stage of its growth has the potential to change lives and this investment will enable Sarissa to take its business to the next level and really make a difference to stroke patients."
The news of this substantial investment in Sarissa comes at a time when the positive impact of Midlands Engine leveraged funds upon the region is becoming apparent. The Midlands Engine Investment Fund (MEIF) Early Assessment Report which was published this week has found that the fund has:
Seen 629 jobs created after £64.8m invested in 257 Midlands businesses
Increased Research, Development and Innovation investment by small growing businesses
60 per cent of investee businesses have reported increased turnover with high export rates
And the MEIF continues to invest throughout the COVID-19 outbreak.
Jon Corbett, Chair of the Midlands Engine Investment Fund's Strategic Oversight Board, says: "Through our seven fund managers, a strong network of LEPs and intermediaries, we continue to foster a real sense of regional collaboration. This has been pivotal to the impact the Fund has made across the Midlands, it will continue to play an important role as MEIF remains very much open for investment during these unprecedented times."