Clean Transport Accelerator launched by NatWest and University of Warwick to help SMEs fast-track their innovations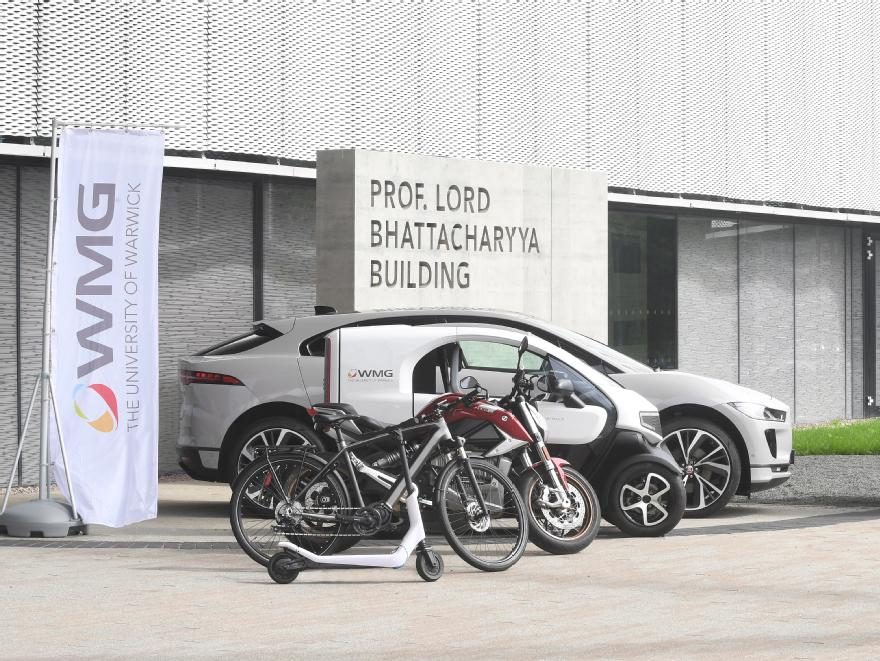 NatWest and WMG, a department at the University of Warwick, are inviting businesses that are creating the next generation of clean green transport to apply to their new accelerator
Businesses will receive support to fast-track their innovations, including easy access to clean transport experts and equipment, exclusive 1:1 coaching sessions, and access to growth funding
The Clean Transport Accelerator is a fully-funded programme and will help the UK be a green leader in carbon-neutral transport for future mobility, helping businesses bring their innovations to the market quicker
With transport being the largest carbon emitting sector in the UK, a partnership between NatWest and WMG at the University of Warwick has led to the launch of the Clean Transport Accelerator. It will support businesses which are part of the mobility sector to develop products and services that will play their part in achieving the UK's net-zero goals.
The first cohort of the programme will help 10-15 businesses through education, events, networking and coaching. They will also have access to experts and equipment to help them accelerate their innovations to the market and demonstrate an impact in the pursuit of net zero goals.
Applicants can be from anywhere across the UK and cover a broad range of businesses, whether they are based within supply chains, are fuel providers, want to develop new means of transport, or be focused on specific transport such as light rail, cargo delivery or scooters.
The programme will be delivered jointly by NatWest and WMG, University of Warwick. NatWest will provide an enterprise acceleration manager with 1:1 coaching, access to their accelerator growth events and access to work space, as well as learning hubs at the University of Warwick and Birmingham.
The University of Warwick will provide access to clean energy, manufacturing, automotive and connected experts at WMG and their HVMC (High Value Manufacturing Catapult), as well as the tools to validate and test any equipment designed by the businesses and access to co-working spaces on Campus.
NatWest supported over 55,000 entrepreneurs in 2021 and has 13 accelerator hubs across the UK. Businesses with high growth potential benefit from a range of support through the accelerators. This includes coaching, community, access to a wide network and thought leadership content. NatWest accelerators are keen to attract more female and BAME led businesses as well as companies outside London and the South East. Any business keen to take its next step for growth should consider applying to the NatWest accelerator scheme.
The Clean Transport Accelerator news follows the recent launch of NatWest's green loans for SMEs and green asset finance through Lombard. Companies can access funds with no arrangement fee to help them transition to more sustainable working practices. The bank has pledged to lend £100 billion by 2025 to businesses looking to invest in being greener. NatWest's Springboard to Sustainability report, published in October 2021, found that half the UK's carbon reduction ambition can be delivered by the SME sector and the Clean Transport Accelerator is the bank's latest offering to help UK SMEs pursue this goal.
Professor David Greenwood, CEO of the High Value Manufacturing Catapult (HVMC) at WMG, University of Warwick comments:
"The drive to net zero has opened up new and exciting opportunities for innovation in the transport sector. Together with NatWest, we'd like to ensure that the UK delivers economic benefits as well as environmental benefits as we meet this critical objective. This programme is aimed to support small and innovative companies as they build and scale up their products, services and business models."
Richard Hill, Head of Automotive and Manufacturing at NatWest, said:
"NatWest has set out a clear ambition to play a leading role in helping to address the climate challenge, and so we are thrilled to be working with the University of Warwick to offer clean transport businesses a fast-track to delivering on the UK's green goals.
"Packed with experts, access to equipment, networking opportunities and funding advice, the Clean Transport Accelerator is a must for any business keen to scale up their next step. I look forward to seeing the innovative and exciting businesses that we support."
Businesses can apply for the Clean Transport Accelerator here: Registration Portal
Where it says 'Voucher Code' please enter 'CleanTransport01/2022'
The deadline for applications is the 11th April 2022.
Read more here: https://warwick.ac.uk/newsandevents/pressreleases/clean_transport_accelerator/
---
About NatWest Group
NatWest Group is a relationship bank for a digital world. We champion potential; breaking down barriers and building financial confidence so the 19 million people, families and businesses we serve in communities throughout the UK and Ireland can rebuild and thrive. If our customers succeed, so will we.
About WMG, University of Warwick
WMG is a world leading research and education group, transforming organisations and driving innovation through a unique combination of collaborative research and development, and pioneering education programmes.
As an international role model for successful partnerships between academia and the private and public sectors, WMG develops advancements nationally and globally, in applied science, technology and engineering, to deliver real impact to economic growth, society and the environment.
WMG's education programmes focus on lifelong learning of the brightest talent, from the WMG Academies for Young Engineers, degree apprenticeships, undergraduate and postgraduate, through to professional programmes.
An academic department of the University of Warwick, and a centre for the HVM Catapult, WMG was founded by the late Professor Lord Kumar Bhattacharyya in 1980 to help reinvigorate UK manufacturing and improve competitiveness through innovation and skills development.