Cell Therapy Sciences offer stem cell therapy services for dogs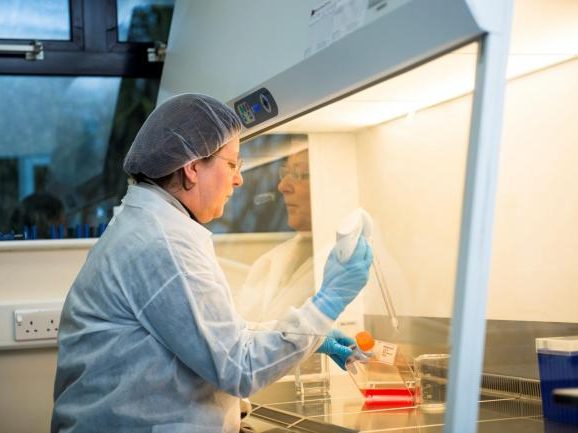 A LEADING Warwickshire vets is now one of just a few centres in the country offering ground-breaking stem cell treatment to help transform the lives of dogs living with osteoarthritis and other painful conditions.
Avonvale Veterinary Centres is working with Cell Therapy Sciences, based at University of Warwick Science Park, to offer AdiShot stem cell therapy, which can help in the treatment of lameness, arthritis and tendonitis in dogs. It can also be used to improve the healing of soft tissue damage.
Patients benefiting from stem cell therapy have a small operation to remove cells from a small sample of fatty tissue under the skin.
Cell Therapy Sciences then take the stem cells to their laboratory where they are placed in flasks, and begin to divide to form many millions of regenerative cells.
They are monitored by scientists every day and preserved in cryogenic temperatures until they are ready. The cells are then returned to Avonvale to be injected into the patient, where they settle inside and around the injured area.
They act to reduce inflammation and pain, attract other healing cells in the body to move to the damaged area and start the process of active tissue regeneration.
Avonvale clinical director Kieran O'Halloran said: "This is an extremely exciting time for us and we are delighted to be making use of this pioneering therapy.
"There are few vets in the country who currently use stem cell therapy and we are the only ones in this region offering it.
"As vets, our ultimate goal is to help animals and this treatment is a revolutionary new way of being able to do just that.
"Reduced pain means happier dogs. An improved willingness to walk and play will be the first changes owners will see in their pets.
"In many cases the positive effects of the treatment can last as long as 18 months."
Dr Christine Standen, veterinary and clinical services director at Cell Therapy Sciences, said: ""This is an evolving science using new technology of which relatively few veterinary centres have the necessary, if any, experience of.
"We are extremely excited to be working with Avonvale. Based on the excellent orthopaedic skills which exist at their centres, we feel it is highly likely that Avonvale will become a centre of excellence for stem cell therapy treatment in the future."
For more information on Avonvale Veterinary Centres, visit www.avonvets.co.uk or search for Avonvale Veterinary Centres on Facebook.
For more information on Cell Therapy Sciences, visit www.celltherapysciences.co.uk.