Cell-freezing spin-out company seeks a cool £500,000 after Business Ready support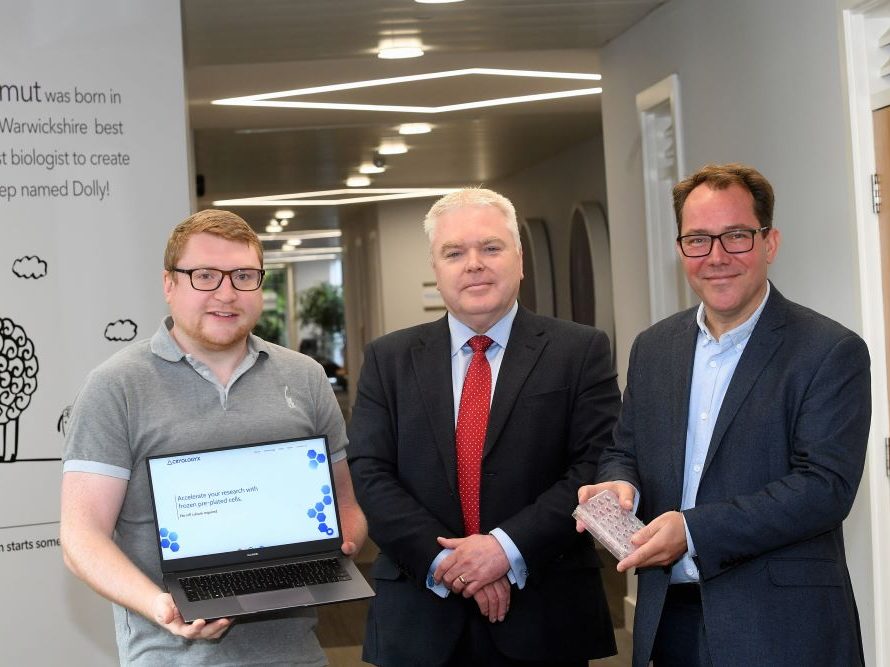 A high-tech business that has developed new techniques for freezing cells and is a spin-out from the University of Warwick is aiming to raise £500,000 of additional investment after receiving support.
Cryologyx was formed by Dr Tom Congdon and Professor Matt Gibson after their research led them to find a new way of freezing cells which minimises post-thaw damage and enables them to be used directly from the freezer, therefore, dramatically cutting down on testing time and allows scientists to conduct research more efficiently.
Matt and his team at the University of Warwick developed the 'monolayer cryopreservation' technology – as it is scientifically known – over the past five years and the pair launched the business in March 2021.
They have been working to commercialise the technology after completing the Innovate UK ICURe programme and drawing in £150,000 of early-stage venture capital funding and £275,000 from Innovate UK.
The company, which is now based within Ignite office and lab space at the University of Warwick Science Park's Venture Centre, has been working with the Business Ready programme to identify potential clients for their first product, the PlaqueReady Thaw and Test Assay, and get ready for further investment
Business Ready delivers support to expanding businesses managed by the business support team at the University of Warwick Science Park and is funded by the European Regional Development Fund and Warwickshire County Council as part of the CW Business: Start, Grow & Scale Programme.
It has helped the business to develop a product aimed at virologists that could lead to them selling up to 200 units a week and the support has also encouraged Cryologyx to draw out its green credentials as a selling point as it massively cuts down on plastic waste.
The aim is now to land £500,000 of additional investment to help add sales and lab-based staff to the team.
Dr Congdon said: "We are very close to being ready to go out for another round of investment and the work with Business Ready has been invaluable.
"It has been brilliant to be able to get advice and support for developing the commercial offering of the business. We have spent so much time on the research and development to create truly ground-breaking technology and Business Ready has been the jump-start that we needed to commercialise and sell it.
"Getting the science right was the first part and now we are focussed on the business reality of creating and selling the product."
Dirk Schafer, Business Growth Adviser at the University of Warwick Science Park, said: "Cryologyx is a wonderful example of a business that has incredible people at its heart, who have developed something that could revolutionise the way cells are frozen for testing.
"However, like so many, they needed external skills and support to move it from an academic idea to becoming a commercial business.
"We've helped to focus their efforts on a commercial product that has a strong potential customer base and, now that they have done that, the business will be very attractive for investment."
Cllr Martin Watson, Warwickshire County Council Portfolio Holder for Economy and Place, said: "The Council prides itself on encouraging innovation and creativity. We're delighted to support Business Ready and encourage developments like Cryologyx which not only create jobs but enhance the area's reputation to potential investors."
---
Notes to editors:
The project is receiving up to £3.6 Million of funding from the England European Regional Development Fund as part of the European Structural and Investment Funds Growth Programme 2014-2020.  The Department for Levelling Up, Housing and Communities (and in London the intermediate body Greater London Authority) is the Managing Authority for European Regional Development Fund. Established by the European Union, the European Regional Development Fund helps local areas stimulate their economic development by investing in projects which will support innovation, businesses, create jobs and local community regenerations.  For more information visit https://www.gov.uk/european-growth-funding.
For more information on the Business Ready programme and how to apply, please contact us at:
Phone: 024 7632 3121
Email: businessready@uwsp.co.uk
Website: www.business-ready.co.uk