Bringing battery research to life at Our Future Moves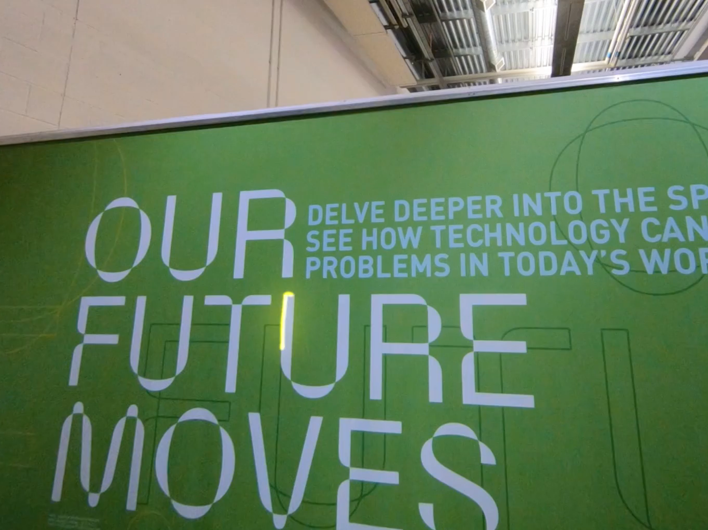 WMG is proud to play a part in the Our Future Moves exhibition at the Coventry Transport Museum.
The interactive exhibition tells the stories of the objects on display by envisioning how future cities may look and explores how pioneering developments in transport and technology could affect the environment and the way we live.
It features a range of exhibits that highlight the region's pioneering work in transport innovation – from autonomous vehicles to one-person submarines.
As well as showcasing the Coventry Very Light Rail Project, engineers from WMG's Automation Systems Group have also created a display using a UR5 collaborative robot, or cobot, to show and explain how automation plays an important part in battery assembly and manufacturing.
The cobot, which is the centrepiece of the display, was the brainchild of WMG Project Engineer Rohin Titmarsh. After working on AMPLIFII , a research project which delivered novel and leading designs for high power and high energy modules, along with the manufacturing methods to deliver them to medium volume production, Rohin started to investigate ways to bring the project to life for a younger audience. The team collaborated with Schunk, suppliers of gripping systems for industrial robots, who have generously loaned a gripper to the team for use in this exhibition, highlighting WMG's strength in industry and breath of partners we work with.
Rohin explains: "This project is a shining example of the fantastic ability we have between our research and technical teams, to help bring projects to life. I am very appreciative of the support of Engineering Technician, Bethany Haynes, and thankful to Phil Jemmett and Margaret Low in the Outreach Team for the opportunity and assistance to develop this extension of the 'Battery Builder' activity.
"It is always important to explain why automation is crucial in producing the number of batteries we need for the future. The 'Battery Builder' activity does that for school students by introducing robots in manufacturing, why we use them and some basics about programming them. The gamification of this activity means we're communicating the key points about our research in a fun and engaging way. Being able to have a real cobot running in the museum is a fabulous example of modern day engineering and in turn a great way to inspire the next generation of young engineers
"We look forward to working with Schunk and other partners in the future on more exciting and innovative uses for cobots."
Our Future Moves runs until 31st October 2021 – find out more here: Our Future Moves – Coventry Transport Museum (transport-museum.com)