Coventry stem cell supplier for vets to save four tonnes of CO2 per year after grant awarded for 'game-changing' storage machine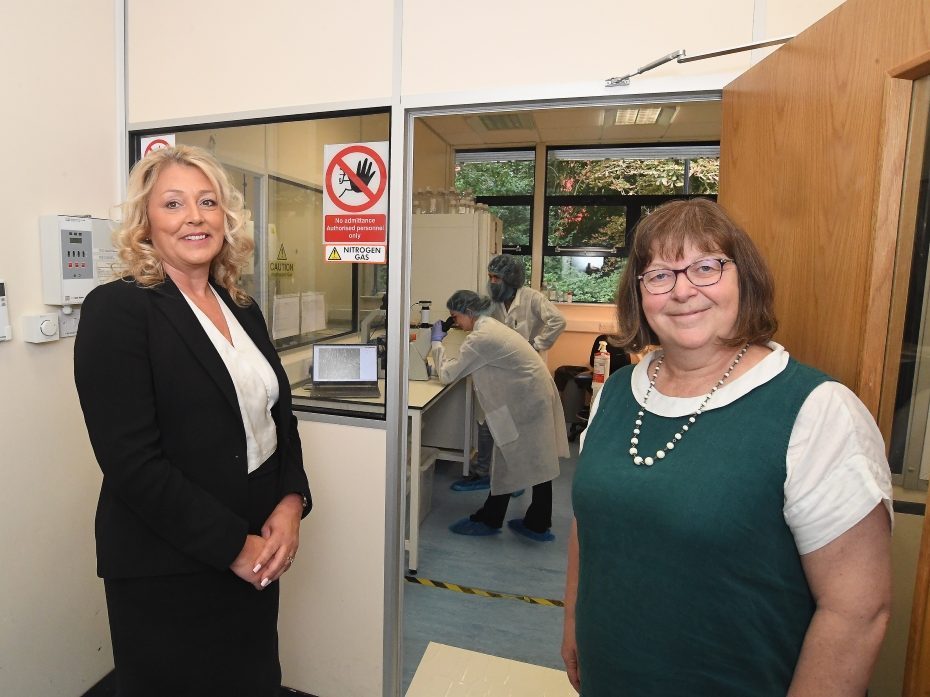 A cutting-edge supplier of stem cell treatments for animals has been awarded an innovation grant to research new veterinary cell therapy products and purchase a state-of-the-art cell storage machine which will save four tonnes of annual CO2 emissions and provide a new source of income.
Cell Therapy Sciences Ltd (CTSL), based at the Venture Centre at the University of Warwick Science Park, has developed highly-effective stem cell treatments which vets around the country use to treat osteoarthritis and musculoskeletal injuries such as tendon injuries in dogs, cats and horses.
Vets have reported that when injected into an animal's joint or damaged tissue, the stem cells stimulate repair and remodelling of damaged joints and tissue. Stem cell therapies are mainly being used in dogs with osteoarthritis, where they have been found to be 85% effective.
For CTSL to prepare stem cell therapies, vets need to send a small sample of an animal's fat to CTSL's lab. The specialist laboratory then extracts the stem cells, culture expands them and stores them in a 'cryo-store' at an incredibly low temperature of -170°C before transporting back to the vet to inject into the animal.
Keeping the cryo-store at that temperature means CTSL has to take deliveries of liquid nitrogen every two weeks, which is very energy-intensive to produce and transport.
CTSL looked into other alternatives and found out about a state-of-the-art cryo-storage machine called MVE Fusion Freezer, which can keep samples at liquid nitrogen temperature without the need for an expensive liquid nitrogen supply, but such new and advanced technology is very expensive for a small company and so CTSL's management looked into different grants to help support the research project to move forward.
Advisors from the Science Park pointed CTSL to the Coventry and Warwickshire Innovation Programme – an ERDF grant-funded scheme that is being delivered by Coventry City Council. An Innovate UK EDGE advisor also worked with the business to identify a suitable innovation grant.
CTSL successfully applied for a grant through the Innovation Programme to match-fund the research and to provide money towards buying the machine. Once the equipment is delivered, it will not only reduce CTSL's carbon footprint but will also allow the laboratory to rent out storage space to other businesses that need to store precious samples.
Dr Joanna Miller, Managing Director of Cell Therapy Sciences, said: "The new machine will be a game-changer for us, both from a business and environmental standpoint.
"Many firms reliant on cryo-storage do not have much space to store precious samples. Thanks to the new machine, we will be able to provide this storage for them, which will give us a new revenue stream alongside our stem cell work.
"And with all the emissions associated with the use of liquid nitrogen, not being reliant on it any more will save an estimated four tonnes of CO2 equivalent every year which is absolutely fantastic.
"It will give our business more scope for growth while continuing to give a fantastic service to our clients.
"We're grateful to the Science Park for highlighting the Innovation Programme to us, and for their support throughout our time at the Venture Centre.
"This is an exciting time for CTSL and we're confident the MVE Fusion Freezer will help us achieve even greater things."
Jane Talbot, Centre Manager at the Venture Centre, added: "CTSL has already helped vets across the length and breadth of the UK give stem cell treatments to animals, and we're delighted this new machine will enable Jo and the team to bolster their income and reduce their emissions.
"We're always looking to help tenants access new grants and provide business advice to help them succeed, so it's fantastic to see how CTSL have taken advantage of this.
"We're looking forward to seeing CTSL grow once the new machine is here, and we will continue to advise and help them every step of the way."
Cllr Jim O'Boyle, Cabinet Member for Jobs, Regeneration and Climate Change said: "The support offered by the Innovation Programme team was very timely as the grant for the new machine will allow CTSL to not only provide its current customers with faster turnaround times but will also allow this local business to diversify and grow by providing a unique service to other businesses.
"Coventry and the surrounding region is full of innovative small to medium sized businesses and this grant is a fantastic example of how we can provide the right help at the right time to enable companies to put themselves ahead of the competition whilst driving financial and employment growth alongside meeting their sustainability goals. I look forward to seeing how CTSL continues to grow and take on new staff in the future."